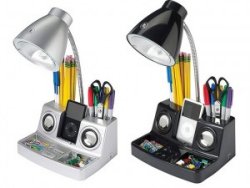 Yeah we know that there are tons of iPod docks available, but this one stands out as it serves several functions. It will keep your accessories all in one place, helping to clean up some desk clutter. The Tunelight MP3 Speaker System is part music system, part organizing helper.
It has a task light and some compartments to hold your belongings like paperclips,pens etc. And when you combine those features with an iPod dock and speakers, it's actually useful. It will work with any MP3 player, which means you'll always have music at your now cleaned up desk.

You can get the Tunelight MP3 Speaker System in silver or black for $19.99. Not a bad price for organization and de-clutter.
desk, MP3, music, speaker, system, Tunelight