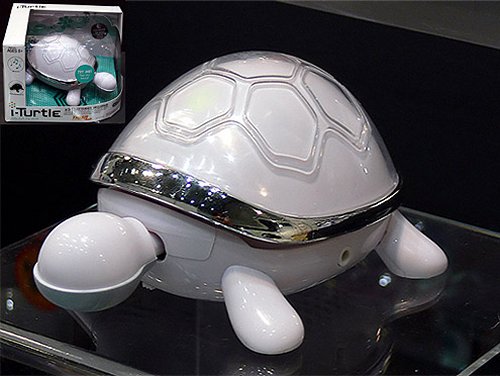 The I-Turtle is here to chew bubble gum and dance to your tunes. And he's all out of bubble gum. It works pretty much in the same way as its predecessor, the I-Dog. It acts as an external speaker for your digital audio player.
Sure, it will respond to your tunes by moving it's body and bobbing its head, but the I-Turtle is deeper then that. It's also capable of expressing a wide range of "emotions" through the blinking of lights on it's shell. That's all well and good, but what I really want is a turtle that will mimic the turtle from the Comcast commercials. Something I can take to the movie theater, so it can shush loud people with sayings like, "We got a real talker over here. A real talker". That's just me.

If you want to bring home an I-Turtle anyway, it will cost you about $46.
grooves, I-Turtle, MP3, tiger electronics, tunes