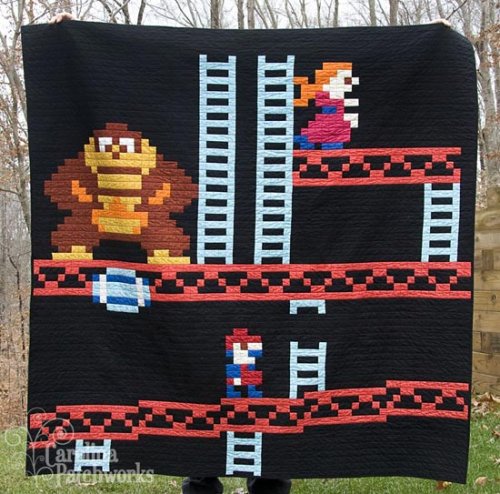 While you will never get to the famous Donkey Kong kill screen with this quilt, it will keep you comfy on these winter nights. Unless you choose to hang it on your wall. It's a faithful rendition of the classic game we all know and love. It measures 64 square inches and is made from 100% cotton.
Etsy seller CarolinaPatchworks did a great job. I would say that it's pixel perfect. And isn't it time you changed those Star Wars bedsheets? Of course, fine geek craftsmanship like this isn't cheap. It will cost you $450. That's 1800 quarters, in case you were wondering.

Buy this, then made your bed frame resemble an arcade machine. It's what I would do.
[Carolinapatchworks] VIA [Geeky-Gadgets]
80s, Arcade, blanket, Donkey Kong, geek, Nintendo, Quilt