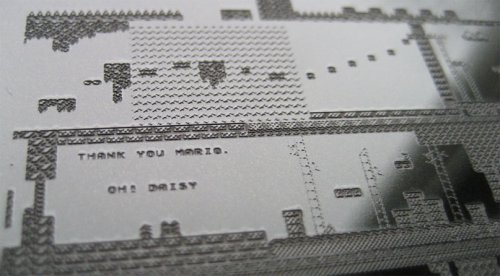 Forget tattooing yourself up with robots. Tattoo your laptop instead. The guy who did this is obviously a big fan of Super Mario Land on the Game Boy. We have to give him some props here. The fact that he actually went to the trouble of laser-etching every level of the game in sequence across his Eee PC is sheer brilliance. It leaves us drooling and wanting to etch something, anything, real bad.
According to Chris, it's creator, "Last night I laser-etched the top of my Eee PC with the complete level maps of Super Mario Land (on the Game Boy). Everything from the familiar layouts of 1-1 to the climactic battle with Tatanga in the clouds at the end of 4-3 is represented in the etching. This was made possible with the laser cutter at NYC Resistor in Brooklyn, where you can go to get your laptop etched too! I set the laser in raster mode at 70% speed and 40% power to achieve this look."

He now owns a truly unique Eee PC. I have to get to this NYC Resistor and quickly.
custom, eee pc, etched, gameboy, mod, Nintendo, Super Mario Land