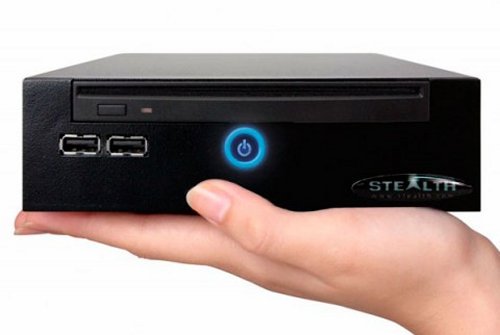 Small PCs are the way to go for HTPC enthusiasts. It fits in a component shelf, offers cutting edge performance and connectivity without being an eyesore. This one is engineered with the latest blazing fast Intel 64-Bit EMT64 Core 2 Duo Processors, and packed in a 6×6.5-inch enclosure. The Stealth computer LPC-650 offers another mini PC with desktop power at only 2-inches tall.
It boasts a rugged all aluminum chassis and is loaded with desktop-grade connectivity with Gigabit LAN, Wi-Fi 802.11g, 4-USB 2.0, Serial, 2-VGA Video, Audio and HDMI ports. The board supports 3D GPU with memory expandable up to 4GB, and has a built-in 2.5-inch anti-shock hard drive slot.

A pre-configurated LPC-650 starts at $1,595 and comes standard with a slim DVD/CD-RW optical drive, 2.4Ghz T8300 processor, 1GB of memory, 5.1 channels audio outputs, Intel GMA X3100 mobile 965 express video controller and 80GB of storage space. Options include ssd storage or a DVD burner.
Home Theater, mini, pc, small.compact, Stealth