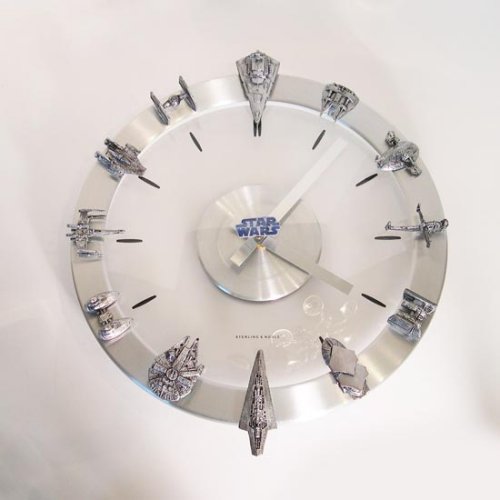 This fun clock features a different starship or fighter on every hour of the clock, handmade by Etsy seller YOUgNeek, and you can order a customized version. They used tiny action fleet Micro Machine battleships and vessels. The ships are specially re-finished in a pewter color scheme so that they'll match the clock's chrome finish.
If you want different Star Wars vehicles, just request them and have $89.99 ready. I'm guessing that a Star Trek version is coming soon.

12 o'clock Star Destroyer
1 o'clock TIE Interceptor
2 o'clock Darth Vader's Tie Fighter
3 o'clock Jabba's Barge
4 o'clock Bespin Twin-Pod Cloud Car
5 o'clock Y-Wing Fighter
6 o'clock Super Star Destroyer
7 o'clock Rebel Blockade Runner
8 o'clock TIE Bomber
9 o'clock X-Wing Fighter
10 o'clock Rebel Snowspeeder
11 o'clock A-Wing Starfigher
Available for $89.99.
I hope they don't all fire on each other at once. That wouldn't be good.
clock, DIY, etsy, geek, mod, ships, Star Wars, starship