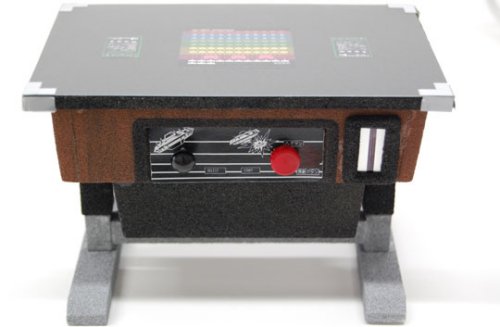 The Japanese love banks. Like us, they also love them some Space Invaders. This latest offering from Takara Tomy may look like an actual sized tabletop Space Invaders game, but it's really a miniature replica bank. It's a unique take on the whole bank concept. It features an LCD screen that unfortunately is not playable, but acts as coin counter.
It will take up to 80 100 yen coins, and each time you drop a coin in, another invader lights up. So, basically you are playing the game in reverse. In this case, it pays to have more invaders on screen. It makes saving money not only fun, but retro and geeky at the same time. It will help you save up for those Space Invaders headphones or that Space Invaders Keyboard you've been wanting.

We want. If there's a neater way to save money that involves Space Invaders, we haven't seen it.
80s, Bank, game, retro, Space Invaders, tabletop, Takara, Tomy