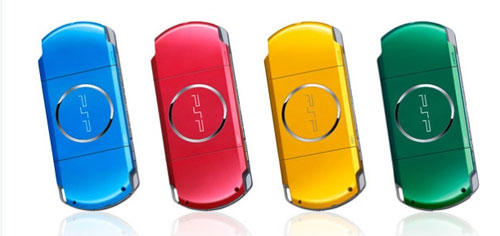 I have a couple PSPs lying around my house and both of them are boring, shiny black devices. Sure, you can get silver PSP here in the states, but that's not really any better than black. What I really want is a PSP with a bright color like Nintendo offers with its DS portable.
Sony is offering portable gamers in Japan the option of four new and very bright colors for their gaming enjoyment. The bright shades are called Carnival colors and the machines can be had in blue, red, green, and yellow.
Except for the bright colors, they are all standard PSP-300 units. The devices are reported to be available alone or in bundles with a 4GB Memory Stick and a 2200mAh battery. There is no word on pricing or when/if the colorful PSPs will come stateside.
PSP, PSP-3000, Sony