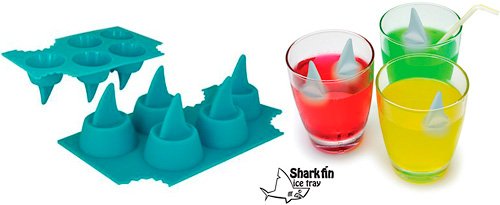 Screw a bigger boat, I think we're gonna need a bigger cup. This is one of the more clever ice cube molds that we've seen since Gin and Titonic. You can feel the tension. Hear the famous shark music as you sip, always wondering if your next sip will be the one that upsets the shark in your glass.
At first glance they look like they would topple over when you put them in your drink, but if you look at the pic, you'll see that under the fin is a sturdy base of ice that will keep everything fin-up. This may be the coolest ice cube tray thing yet.

It's just $8. It will make your drink twice as refreshing having a shark fin in it. Hell, why not combine it with the titanic ice cubes and have some real fun.
cold, drink, Fin, ice cube, jaws, mold, Shark, tray