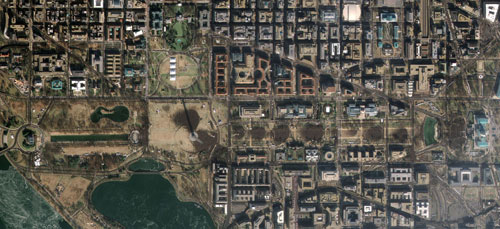 It is always very impressive to me when I see images taken by satellites from space of things happening on Earth. The biggest thing to happen here in the U.S. in a long time was yesterday's inauguration of President Obama into office.
The GeoEye-1 Earth imaging satellite took the opportunity to shoot an image of the events as it passed over Washington D.C. 423 miles above the city in space. When it shot the image, the satellite was hurtling along at four miles per second.
You can clearly see the throngs of people huddled around the big Jumbotron TV screens to get a glimpse of the inauguration events and get bored to death by that woman reading the poem. GeoEye says that the image here is the highest resolution image in the world of the inauguration events. I say it's probably the highest resolution image we know of, I bet the U.S. spy satellites looking for any terrorist activities could see you picking your nose and read the time on your watch from space.
GeoEye-1, Obama, Satellite Images