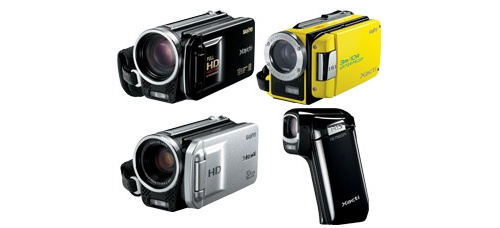 Sanyo has a new line up of mixed form factor (horizontal, vertical) Dual Camera Xacti digital cameras it unveiled today. These models, including full HD 60fps units, waterproof HD models and compact HD cameras, will be available starting in March.
These new Sanyo cameras will range in price between around $200 and $600. These units will let consumers record both video and digital images to SD/SDHC cards and are said by Sanyo to be thumb operable for important functions. Separate video and photo buttons offer switch between digital recording modes.
Features include MPEG-4/H.264 video clip recording, compatibility with optional lenses for better shooting and battery lives up to 3 hours, 20 minutes. Most models, except for the HD units, will be available in a variety of colors.
Camcorders, Digital Cameras, Sanyo, xacti