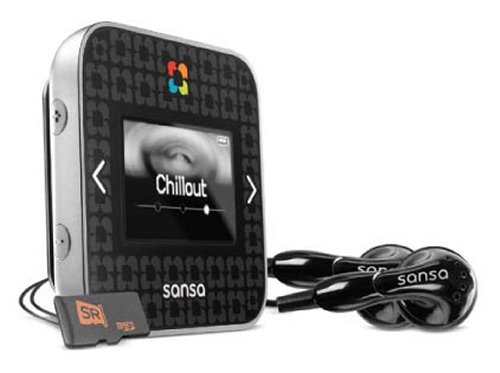 If you love music, but aren't picky about what you specifically listen to, this one may be a good bet for your ears. It comes with 1,000 "hand picked" songs. Yeah I know this could spell disaster. Hopefully the songs were handpicked by someone in your age group, so you don't end up with Britney Spears or Hannah Montana.
It comes with 1,000 songs "handpicked from the Billboard charts" coming on a microSD card for use with the player. If you get bored with those, you can get genre-specific 1,000 song bundles for $40 more. It's a cool idea, which brings the cost of music down to 4 cents per song and it also cuts downloading out of the equation. The problem is most of the songs will probably be garbage. There's also an FM radio integrated in there too.

Here's the catch. You knew there was one right? Those $0.04 cent songs are locked to the card. The Sansa slotRadio will be available in "early 2009″ for $100 at RadioShack.
000 songs, 1, SanDisk, Sansa, slotRadio