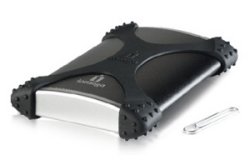 Iomega kicked out a couple of new portable hard drives last month, one of which being the rugged 250GB eGo BlackBelt that we're taking a look at today. The most stand-out feature we found in the BlackBelt was its Drop Guard Xtreme, allowing the portable drive to take a hit to the pavement from as much as 7 feet in the air and keep on ticking.
This ability to take a long drop is largely due to the black rubber "belt" that envelopes the drive (mostly the corners) protecting it from all angles of impact. The rubber belt is not adhered to the drive so it can be removed if you would like, and your left with a smooth, flat-black flask-shaped chasis that's maybe a little to big for a pants pocket but will easily fit into the pocket of a jacket.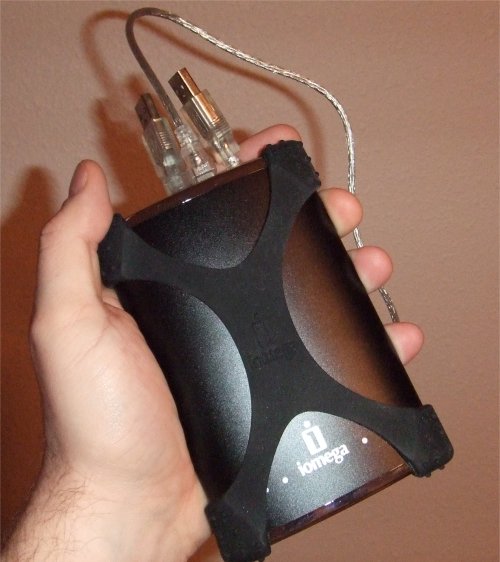 The eGo BlackBelt connects with USB 2.0 and comes packed with a dual-headed USB cable to give the drive that extra oomph of power from your laptop. There is also an AC adapter port but this is not necessary to power the drive and did not come packed in our sample for review. The enclosure of the drive also features a handy green power light indicating that the drive is connected and powered which is excellent help should end up troubleshooting connection issues.
Our experience with using the BlackBelt went flawlessly. It connected easily to a Windows XP and Windows Vista machine with no software installation necessary. Within seconds we were able to transfer files to and from the device quickly and easily with the green indicator light blinking to indicate transfers taking place.
Since the eGo BlackBelt's "claim to fame" is its ability to take a hit, naturally we wanted to test out its dropability and we are pleased to report that the drive passed with flying colors. Despite more than 20 drops from heights between 6 and 7 feet, the drive continued to work without missing a beat. We dropped it onto both carpeted and bare cement surfaces in our tests, however all surfaces were flat allowing the rubber corners to take the hit.
Another nice feature of that rubber black "belt" surrounding the drive is the anti-slippage aspect. Most other portable drives that we've used will easily slide across the table or across the top of our laptop with little effort and end up on the floor. Ironically, the drive we're reviewing which is built to handle drops was found as the least likely to actually get dropped since the rubber belt prevents it from sliding and slipping.
Overall we found the Iomega eGo BlackBelt drive to be a very satisfactory portable drive and lives up to its reputation of handling drops from heights twice as much as the industry standard. It's sharp looking and does its job quick and simple. It even comes with licenses for back-up software (via download). The BlackBelt comes in a 250GB capacity and currently retails for just under $100.
Detail specs available at Iomega.
blackbelt, eGo, Iomega, portable hard drive, Storage