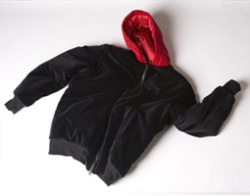 QIO Systems announced today its unveiling of its new PANiQ wearable consumer electronics brand. This consists of clothing and popular electronics controllers brought to together to form a self-described wearable network for consumer electronic devices.
QIO said the PANiQ system includes components which are "modular, removable and seamlessly integrate into PANiQmode clothing." This clothing works through the integration of PANiQ's smart-fabric touchpad, providing support for electronics which include iPod/iPhone controls, Bluetooth mobile phone controls, AM/FM radio and walkie-talkies.
PANiQ, said QIO, is also releasing its own line of audio accessories, called PANiQ Budz to complement its PANiQ controllers. PANiQ provides this clothing to a variety of labels, including Cole Haan, Zoo York, KILLA, iQuantum, Celio, Beaucre, and Bailo. Most of the controller functions are available now.
clothing, paniq, qio