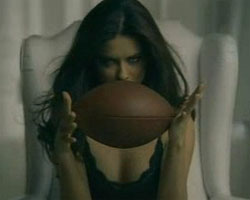 I spend most of my year avoiding commercials to the extent that I don't even know what movies are at the theater frequently. I can thank my DVR for the lack of product advertisement bliss I enjoy during a normal night of TV watching.
The one time a year that I actually like to watch commercials is during the Super Bowl. That seems more than a little odd to me, but still I watch them and often rewind them thanks to my trusty DVR. If you are a big fan of Super Bowl commercials, superbowl-ads.com has the spots going back to 1998 available for you to watch.
If you own a PS3, Xbox 360, or IPTV you can also watch the commercials via those devices as well. Now you can watch those sexy Victoria's Secret commercials all you want or revisit my favorite, the E-Trade baby. The clown commercial is one of the best ads ever. It's a safe bet 2009′s commercials will show up shortly after the big game is over this weekend.
Commercials, Super Bowl