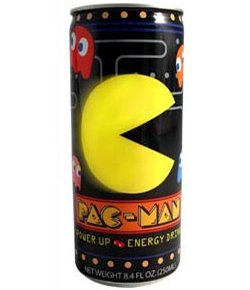 Take it from Pac-Man, it isn't easy running around mazes, gobbling up power pellets and eating ghosts. Sure, you get to chomp on the occasional fruit, but it takes a lot of energy to live the waka waka lifestyle.
That's why Pac-Man experimented until he came up with just the right energy drink and now he wants to market it to you. The drink is cherry-flavored and it's the human equivalent to eating a power pellet. Ghosts turn blue with every sip. This drink delivers the energy necessary to get all the way to the Pac-Man kill screen if you so desire, meet Ms. Pac-Man and have Baby Pac-Man.

Only $3. Which is 12 quarters in retro-gaming.
80s, Arcade, Cherry, energy drink, game, Pac Man, retro