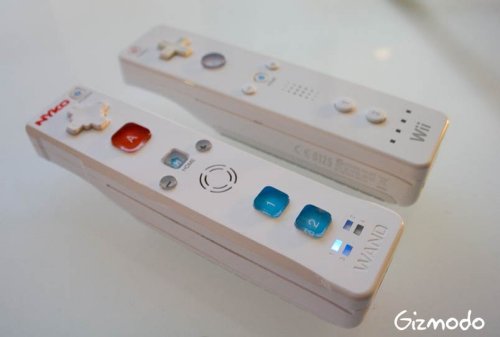 It had to happen and I'm surprised it took this long. Someone had to clone the Wiimote. That someone is Nyko. According to Mark Wilson of Gizmodo, who had a chance to play with it at CES, the device is pretty impressive, with no tangible difference aside from the red, white and blue color scheme.
The quality and response seems dead on. But aside from one-upping the Wiimote on good looks, "the Wand" has one advantage. Nyko is using it as the basis for their new Trans-Port peripheral technology. Where most Wii peripherals like the Zapper use mechanical contacts to link a trigger to an actual button on the Wiimote, Nyko makes this connection digitally.

According to Nyko, not only could they then remap buttons on attached peripherals, but transfer vibration information as well. So the next Nyko-branded Nunchuk may vibrate. Expect it to be on the market in a few months. Nyko hopes to price the Wand between $30 and $40.
clone, controller, Nintendo, Nyko, wand, Wiimote