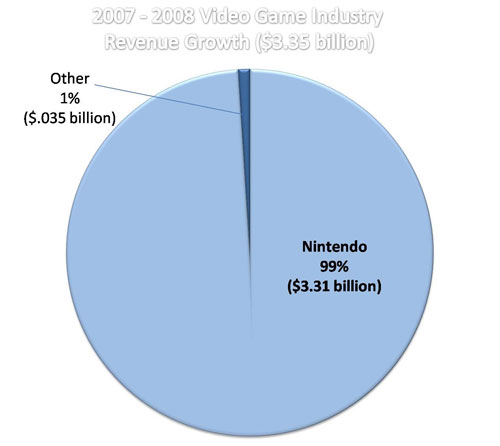 In my home, we have a Wii, Xbox, and PS3 so most of my son's friends end up over here playing video games after school. The one console that all of them were hoping for last Christmas was the Wii. It seems they weren't alone in their dreams of a Wii.
Nintendo is talking up the numbers just released by the NPD Group that talk about the gaming market in 2008. According to NPD, the Nintendo Wii and DS game systems were the most popular systems, by a long way, during 2008.
NPD says the Wii accounted for 55% of all next generation console sales in America in 2008. The Nintendo DS accounted for 72% of all portable console sales for the year. The research firm says that the console market was up 19% during 2008 despite the poor global economy. Of that 19% increase, Nintendo grabbed a full 99% of that money.
DS, Nintendo, NPD, Wii