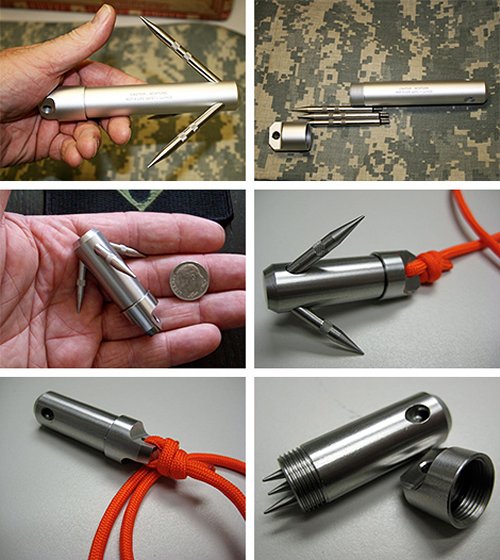 These are great for part-time Ninjas and Superheroes who don't have a utility belt. The Pocket Grappling Hook is $27, the Micro Pocket Grappling Hook version is $22 and both are awesome. The Pocket Grappling Hook is a pocket size Hook(1″ x 5.5″) , with spikes that unscrew and are stored in the water resistant "o"-ring sealed body.
To use the Micro Grappling Hook just retrieve it from your pocket, unscrew the base to reveal the three tiny spikes, then thread them into their holes. Then it's just recap and swing the hook toward the target. And you larger figured heroes needn't worry. It's been lab tested to hold more than 350 lbs. Anyway, I have never seen anybody that huge trying to throw a grapple and climb anything.

A ninja is always prepared and never anywhere near 350 lbs.
climbing, Grappling, Hooks, Micro, Ninja gear, pocket, Tools, Weapons