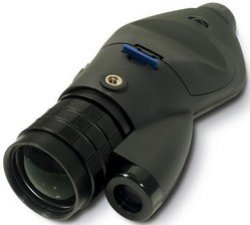 If you're looking for a monocular that can capture images in complete darkness, look no further. Whether searching for Owls or just plain being a perv of some sort, the Night Owl iGen Night Vision Camera is the world's only night scope that can also take pictures. The device features a 330′ field of view, 650X ambient light amplification, a CCD/Micro-display system for enhanced viewing, and a standard secure digital memory card storage.
The pictures are black and white and get saved onto an SD Memory Card. What I want to know is what motivates people to go out in the bitter cold dead of night and snap pics. Are you guys really finding anything that exciting? It's not like you've obtained proof of Bigfoot or aliens.

All I can say is these people must be up to something interesting. The Night Owl iGen Night Vision Camera retails for $599.
camera, iGen, images, night, Night Vision, owl, pictures