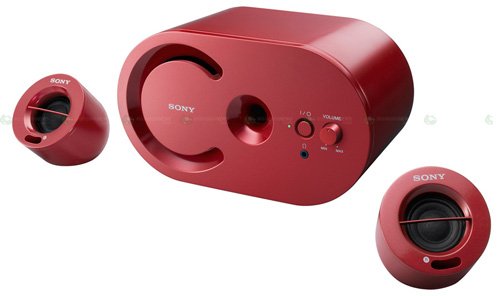 Sony introduces a new high-end PC speaker line-up with superior sound quality. The design is pretty interesting too. One of the high-end PC speakers is the SRS-DF30, which is a 2.1 Speaker for your PC with a built-in FM Radio Tuner. Other models include the SRS-D25, SRSZ50 and SRS-Z100.
The slim size Sony SRS-Z50 is a pair of speakers that feature a bass reflex duct, while the three-way SRS-Z100 speakers feature bass boost. The Sony SRS-D25 2.1 speaker system sports a subwoofer for strong bass.

The SRS-Z50 speakers should be available in March for about $60, while the SRS-D25 can be had for about $70, the SRS-Z100 for about $100 and the SRS-DF30 arrives in March for about $200. We're digging the design on the ones pictured above.
design, high-end, pc, Sony, Speakers, SRS-D25, SRS-DF30, SRS-Z100, SRSZ50