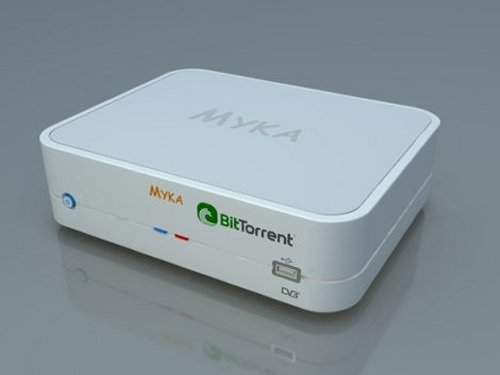 Fans of BitTorrent downloads have something to get excited about. Word is that Myka will begin to ship the long awaited BitTorrent downloading TV box within 4 to 6 weeks, after a half year delay. The delay was due to the company failing to raise financing to begin production, but it's all been resolved and the factories in China are now "humming".
Those who placed a pre-order will be able to get them soon hands on one pretty soon. The device is available in 80GB, 160GB and 500GB sizes. The Myka Torrent Box will hook up to the Internet and TV directly and features a built-in BitTorrent protocol that downloads flagged videos while transferring them to your computing device.

Prices range from $299 to $459.
BitTorrent, box, download, Myka, shipping, Torrent