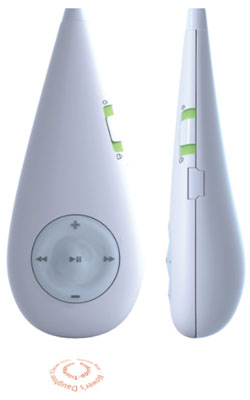 Here's a concept design you don't see everyday. The Music Drop Player is an average MP3 player, with one difference. It uses a projector instead of a small screen as a display. This way if you want to see the track info, just push a button and project the info on a wall.
The projector would be bright enough to show on almost any surface like walls, tables, or even your own hand when you're traveling. Oddly, it displays the information in a spiral pattern that forces the user to turn their hand around or tilt their head just to read all the info. With this device, you would get an on/off switch and iPod-style buttons for skipping tracks, rewinding, fast-forwarding, and volume control.

No word on if it will be developed and released. But don't expect it soon. It doesn't add much value to your player, just an extra gimmick.
concept, drop, MP3, music, player, projector