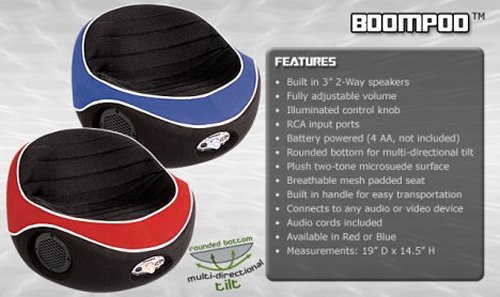 These days we want games to be super realistic. It's all about better graphics and sound as well as clothing technology that puts you into the gaming environment.
Rumble controllers were just the beginning. The LumiSource BoomPod is another such accessory. This one is designed to park your butt on, offering multi-directional tilt to the gamer sitting on it. Some other features include: Integrated 3″ 2-way speakers, Fully adjustable volume control, Illuminated control knob, RCA input jacks, Plush two-tone microsuede surface, Audio cords and Built-in handle.

Sadly this one is designed for kids under 12. But at least it's only $35.
BoomPod, child, feedback, gamers, gaming, gear, kid, LumiSource