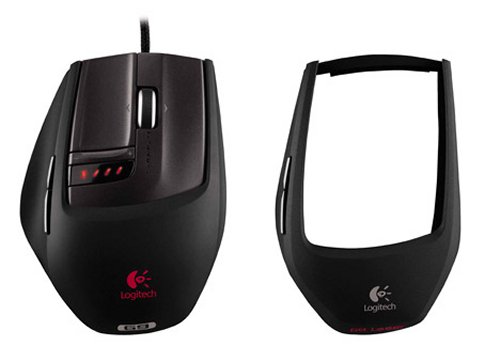 Logitech has a new version of it's famous and highly customizable gaming mouse, the G9. The design is the same and the spec sheets won't tell you what is so new about it. But they did up the precision, which is good news. Users can adjust the gaming-grade engine up to 5000 dpi, where before it was only 3200 dpi. The G9x ships in April 2009 for $99.99.
Some specs: Two interchangeable grips (Precision and Wide Load) let gamers select their preferred grip, Save up to five profiles on the mouse's on-board memory, Built-in weight cartridge holds up to 28 grams of metal weights that gamers can mix and match, Custom-color LEDs let you match your G9x mouse to your personal preference, and the MicroGear Precision Scroll Wheel precise click-to-click scrolling is perfect for weapon selection.

Not bad for $99 if you are a serious gamer.
G9x, gamers, laser, Logitech, mouse