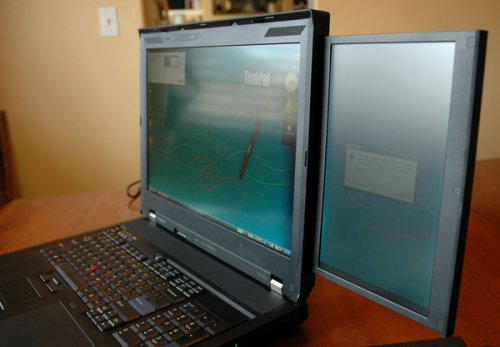 It seems like it has been official ever since we first started slobbering all over it's dual-screen goodness. Even with it's first video appearance, it already seemed official. Then it really started showing off. They're so cute at this age. Anyhow, the beast with two screens is now officially official.
At last it is confirmed by Lenovo, offering great performance, with a 17-inch primary display and a 10-inch slide-out panel. Details about exact configurations are sparse, but apparently buyers will be able to outfit them with high-end Intel CPUs, optional RAID HDD / SSD setups, NVIDIA Quadro FX graphics, up to 8GB of DDR3 RAM, dual-link DVI / Display Port / VGA support, a 7-in-1 card reader, five USB ports, WiFi, optional WiMAX, a smartcard reader and a dual thermal solution to keep things cool.

The machine should be available today in fact, starting at $3,663, but we haven't seen one yet and there's no sign of it on Lenovo's US website.
dual screen, laptop, Lenovo, official, ThinkPad W700ds