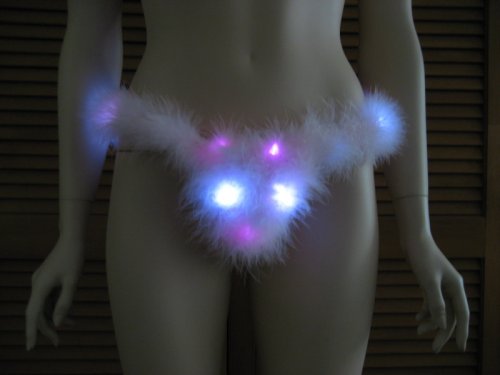 LED-embedded undergarments are bizarre. Maybe even creepy. I mean, look at the pic. It looks like you have an evil other-worldly creature living in your nether regions. Do you really want that thing staring at you? But hey, maybe you like that sort of thing in the bedroom. Who am I to judge?
I guess LED undies are only limited by your perverse imagination. At Enlighted, you can get LED g-strings, panties, even hot pants. If it's not freakish enough for you, they will make a custom piece for you, with lights and patterns of your choice. Perfect for acting out Sci-Fi fantasies. Just don't ever talk about it outside of the bedroom. Please.

Lights. Undies. Action.
LED, light, lingerie, panties, scary, Sex, thong, undies