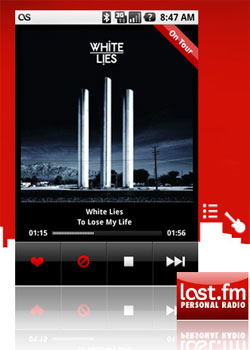 Users of the T-Mobile G1 that have been hoping for some streaming radio action on their open source Google-powered device can rest easier now. Last.fm has announced that it is now offering its on-the-go music application on the Android platform.
The Last.fm application is available now on the Android Market. Features of the application include up-to-date concert information, streaming radio stations, personalized streaming radio, the ability to find similar artists and genre-specific radio streaming.
One important new feature for the Android application is called Background Playback. This allows the music to be played in the background while another application is being viewed or used. That means that you can listen to your music while you surf the Internet or play a game.
Google Android, Last.fm, T-Mobile G1