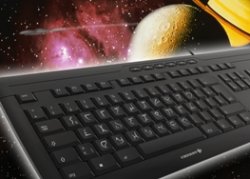 You own the dictionary. You speak the language. Sadly, you've even tried to pick up women using the Klingon tongue. Unsuccessfully of course. But until now, you have not been able to type with a Klingon keyboard. Well, Cherry Keyboards' Klingon Language keyboard has your back. All it needs is a PS/2 port and a willing nerd. You're good to go.
They were able to keep it looking like regular keyboards thanks to the fact that the Klingon alphabet has 26 characters, the same as the English language. Now you can pretend to be a Klingon ALL the time, not just at the conventions. Just don't sit in front of it all day long typing Klingon love letters and death threats, or else your fake armor isn't going to fit over your gut anymore.

It's the only keyboard that is Worf approved.
alien, keyboard, Klingon, language, Star Trek, typing, worf