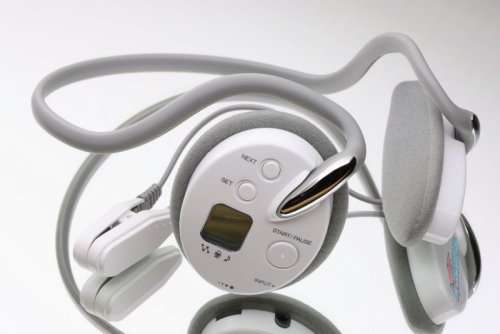 Reviewing a technology gadget is usually is fair amount of work anyway, but trying out the FiTrainer from iTami turned out to be a little more than I had bargained for. The FiTrainer is essentially a customizable, virtual fitness coach with direct access to your current level of exertion and your ears.
The device is essentially a pair of somewhat-large headphones with a built in heart-rate monitor, music and voice prompts to continuously keep you in the "right" zone for your workout. Users enter in the type of workout and their age and then start exercising. The voice inside the headset guides you through the rest.
SETUP
Setting up the FiTrainer is pretty straightforward and some good directions were included to guide me through the setup and use. One side of the headphones is used to store the battery and the electronics for the heart rate monitor (but does not have a speaker). The device runs on a single AAA battery that provides around 15 hours of use. They other side of the headset has a small display and buttons to enter in your age, the type of workout desired and also if you want to hear rhythm, narration and music, or just the rhythm and narration, and a speaker. It also has a jack to plug in your own music to pipe through the device. A few quick steps of entering information was quickly followed by a woman's voice encouraging me to exercise "much harder".
USE
Wearing and using the FiTrainer was incredibly simple. The headset was surprisingly comfortable and stayed put very well during walking, running and biking. Based on the wearers heart rate (gathered through a clip on the earlobe) a cadence, narrator and optional music frequently encourages you to increase or decrease your level of exercise in order to keep your heart rate at an ideal level, based on the Karvonen Method from a measured resting heart rate.
Optionally you can also pipe your own music into the FiTrainer and the voice and cadence continue in the background. The only noticeable downside to this is that you miss out on any stereo sounds since the music only comes out of one side. The device will bring you through timed workout and cool down, which can be different for the type of work out you select, and the time can be extended in 5-minute increments by pressing the "Next" button.
SUMMARY
The downsides I found to the FiTrainer were 1) piped in music only comes out of one ear, stereo would have been nice, and 2) it would be neat to have the ability to record and display the workouts compared to each other. This device will remember the previously entered age but does not track any workout data.
But, overall I found the FiTrainer to be a good, solid device to help with maintaining an ideal level during a workout. It saved mefrom having to continually keep my eye on a heart rate monitor to maintain the right heart rate and provided both voice direction and a rhythm to encourage harder or more gentle exertion. It was also comfortable and stayed on my ears, which is sometimes pretty hard to come by with headphones in general. iTami has the FiTrainer available now for just under $40.
FiTrainer (Mind your speaker volume before hitting the link.)
exercise, FiTrainer, Headsets, Health, iTami, Review, virtual coach