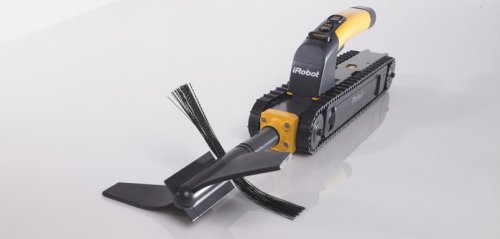 Out of all the robots they could have introduced, it had to be the Looj. That gutter cleaning bot that is cool from a practical standpoint, but not so cool as far as robots go.
According to them, it has new features to make it more efficient. It drives easily under gutter straps, propelled by a three-stage auger that dislodges and eliminates all of that nasty dirt and gunk. It sports a new antenna, smart speed, and a battery door that doesn't need tools to be opened. Yeah, not much to jump up and down about, but hey, gutters will be clean.

iRobot Announces 2nd Generation Looj™ Gutter Cleaning Robot

World's Only Gutter-Cleaning Robot Sports New Internal Antenna, Anti-Flipping Auger and Smart Speed

LAS VEGAS, NV – Consumer Electronics Show – January 8, 2009 – iRobot Corp. (NASDAQ: IRBT) today unveiled the second generation iRobot® Looj™ Gutter Cleaning Robot at the International Consumer Electronics Show (CES). The Looj, which makes gutter cleaning fast and easy by reducing ladder work and dangerous over-reaching, has new features that help it break up clogged leaves and debris faster and improve overall performance.

"We listened to our customers and designed an updated Looj based on their feedback," said Matt Palma, Vice President Sales & Marketing, iRobot Home Robots Division. "The one-of-a-kind Looj saves people time and frees them from the dull, dirty and dangerous work of gutter cleaning better than ever."

New Looj features include:

· Internal antenna

· Anti-flipping auger

· Smart speed

· Tool-less battery door

The winner of the 2008 Best of CES Innovations Award, iRobot Looj is the only product of its kind. Controlled by a wireless remote that doubles as a detachable handle, the Looj cleans an entire stretch of gutter while the human operator stays in one spot, reducing the need to climb and reposition the ladder multiple times or juggle tools at dangerous heights.

The iRobot Looj Gutter Cleaning Robot drives easily under gutter straps, propelled by a three-stage auger that dislodges and eliminates dirt, leaves and debris that can cause water damage, overspills and ice dams in addition to creating a breeding ground for carpenter ants, mosquitoes and other pests.

The new Looj models 125, 135 and 155 will be available for purchase at www.irobot.com and select retailers this spring for a starting price of $129.99.
CES, iRobot, Looj, New, robot