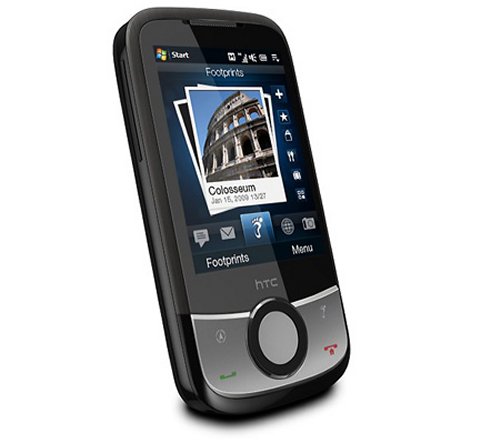 HTC has a new version of it's GPS-loving Touch Cruise handset. This time it's thinner, boasts a more stylish design and it has a new HTC Footprints app for integrating GPS data with your photos and notes. The phone can also be used as an in-car navigation system, with the included cradle.
Some features include: GPS and a-GPS, quad band GSM, WiFi, Bluetooth 2.0+EDR, a microSD slot and a 3.2 megapixel camera, along with a 2.8-inch QVGA screen. It will cost you $500 to $600 in the second quarter.

The most interesting aspect of this one is the HTC Footprints app. It takes geotagging to the next level. You can take notes and audio clips and embed them to that GPS location data. Think of it as creating postcards, which are auto-named by their location. Pretty intriguing.
HTC, intros, phone, Touch Cruise