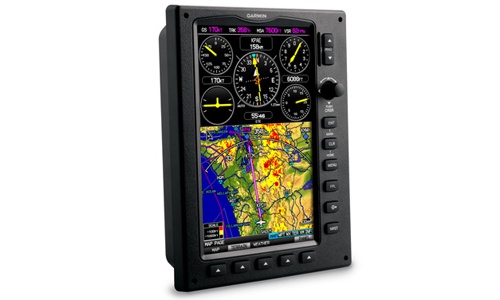 Garmin added today a couple of new full function multi-function displays for those enjoying the light sport retrofit and experimental aircraft markets. The GDU 370 and GDU 375 are set to be available this March for around $3,300 and $4,000, respectively.
Garmin says these new seven-inch, portrait displays are designed to be viewable day or night. A variety of controls are built into these displays. For example, dedicated keys on the display's right side have specific functions such as nearest, direct to, flight plan, zoom in/out and menu. The backs of these MFDs also have connection ports for external GPS and XM antennas, and a 50-pin connector for power/ground and interfaces.
Features of the GDU 370 and 375 include obstacles and terrain information, IFR map mode, automatic highlighting of airspace close to the pilot's current altitude and pilot guide information on over 5,300 public-use airports and more than 7,000 FBOs, such as pilot services, ground transportation, lodging, restaurants, and local attractions.
aircraft technology, Garmin, GPS