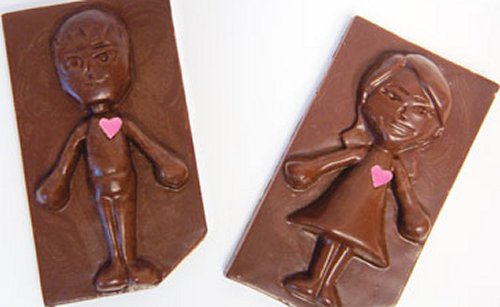 It's that time of year again. Time to celebrate love and shower that special someone with gifts like roses,jewelry, fine wine and chocolates. If you're going to give that special geek someone candy and chocolates this year why not tie it all in with their favorite hobby? The Wii. Give them some chocolate Miis.
They come in white, milk, or dark chocolate flavors of both male and female. It even comes packaged in a box that looks like a Wii. Give a geek this gift and they will be yours forever. Only $19.95 and for each purchase they will donate a $1 to the Child's Play Charity.

Now if someone would make some chocolate Wiimotes with candy buttons, Easter might be covered too, for that special geek.
candy, chocolate, Miis, Nintendo, Valentine's Day, Wii