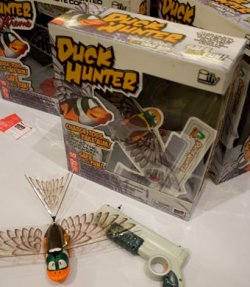 This game looks familiar. Except now you can really score a kill. Well, not really. But it's as close as some of you will ever get to killing a flying duck. Available this spring, the Duck Hunter is like a WowWee Dragonfly mashed up with the classic Duck Hunt lightgun shooting game.
The duck launches from your IR blaster, charging in just 10 seconds from a few AA batteries in the pistol. When the robotic duck takes flight autonomously, just shoot the bird three times. Robot duck death will follow.

A base version of the Duck Hunter will cost $30 while a premium version that includes a controller so one person can actually fly the duck while another shoots will cost $40.
Duck Hunter, flying, hunting, lightgun, robot