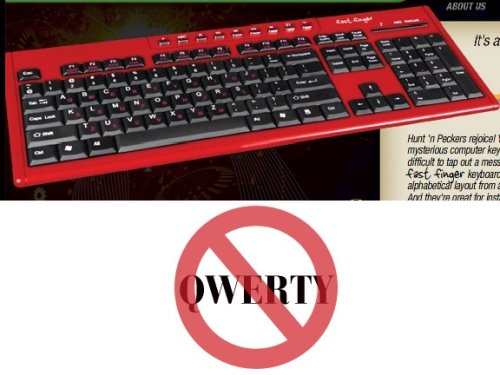 Most of us are happy with a nice QWERTY keyboard. Why not have a keyboard that has the ABC's one letter after each other the way nature intended? The Fast Finger Keyboard is exactly that keyboard. There are three ways to use it. If you are just learning typing, the keys are layed out on the keyboard in alphabetical order. Just press the 'ABC' button and the keys will type in that order.
But if you are ready to take it to the next level, you can use it as a normal QWERTY keyboard. The letters are layed out on the keyboard under the ABC keys in red. The other thing this keyboard does is when the 'F' key is pushed, IM abbreviations are available with the function keys. "CYA", "LOL", and "BTW" etc.

The Fast Fingers Keyboard is $27.95. Great for those who can't quite grasp how a standard keyboard functions.
abc, Fast Finger, IM, keyboard, learning, letters, order