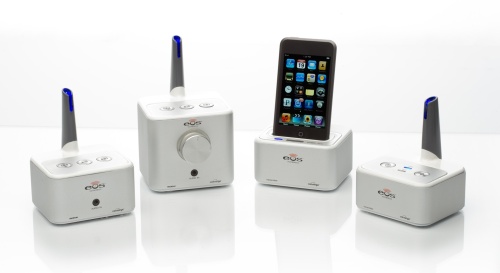 One of the countless new wireless audio systems to emerge from CES this year is the streaming happy Eos Converge. This multi-unit system begins pricing around $90 per component and will be available come March.
The Eos Converge is designed to stream audio, via one of its wireless transmitters, from a connected audio source to other points in the surrounding area. It has a wireless range of around 150 feet and is said not to interfere with other wireless networks created by the likes of Wi-Fi or Bluetooth.
The Converge, when teamed with an iPhone and the Apple Remote application, can remotely control music selection and playback through their existing home WiFi network. The app allows users to search, select and play music, as well as display album cover artwork.
eos, Media Streamers, wireless audio