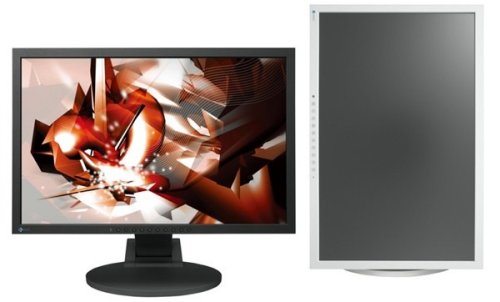 When not dabbling in outlandish remote controls, Eizo is known for its their specialized monitors. Their latest announcement is a pair of new FlexScan LCDs that supposedly cover 95% of the Adobe RGB color space as well as 92% of the NTSC color spectrum.
The FlexScan S2242W-H and FlexScan S2232W-E are both 22-inchers. The FlexScan S2242W-H features a full 1920×1200 resolution and the FlexScan S2232W-E is 1680×1050. Otherwise, the pair are pretty identical. Some other specs include: 1,200:1 contrast ratio, a 12ms black-to-white response time, VGA and HDCP-capable DVI ports (no HDMI), a pair of USB ports, and a pair of built-in 0.5W speakers.

No word of a release here in the states, but those in Japan will be able to get them next month for roughly $780 and $700.
Accurate, color, eizo, FlexScan, LCD