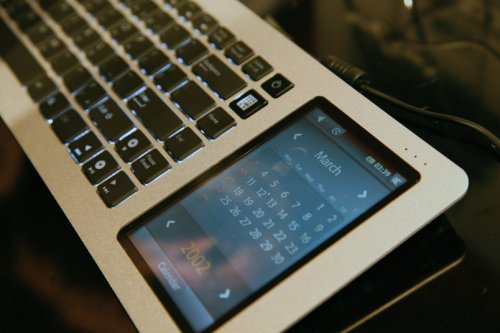 Last week we had a look at Asus' HTPC keyboard concept, but now we've got some specs to go along with it. The only thing we don't know about are pricing and availability. The keyboard boasts a 5-inch built-in display, a 1.6 GHz Atom processor, 1 GB of RAM, 16/32 GB SSD, WiFi, flat Mac-like keys and Bluetooth.
Where ports are concerned, it's got wireless HDMI, 2 USB 2.0, VGA, HDMI, and audio in/out. It's OS of choice is Windows XP home, which is a bit odd for something that wants to be a home theater PC, though it's not packing a TV tuner either. No info on price or release date, but according to the Asus CEO, it'll be available in the next 3 to 6 months.

We can't wait to see this thing. Think about it, if you wanted to, you could carry it around with a a pocket projector and have access to a full PC with a sizable projected display anywhere.
ASUS, Eee, HTPC, keyboard, specs