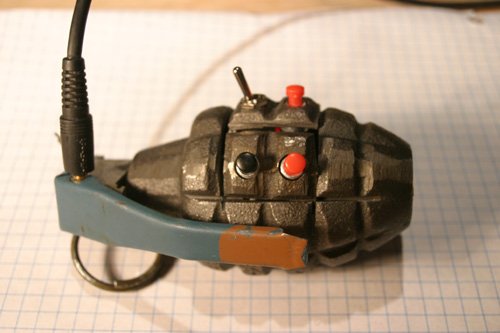 Obviously you shouldn't try this at home. It's not a real smart idea to start modding live grenades. This one was an inert hand grenade, therefore the creator still walks among us. Ingredients? 1 inert grenade, a 1GB Sansa MP3 player and a hacksaw. That's all you need.
If this sort of lethal DIY project interests you, you can try your hand at making one. Just don't lose your hand…er…arm. Torso. It looks like a fairly simple build and a basic description can be found in the link below if you want to have a look. This is one of those Field of Dreams deals. You know, "If you build it, they will come". They, being the FBI, local police, Homeland Security etc.

Pull the pin and throw. It will frag all opposition as it plays Barry Manillow and American Idol's greatest hits.
bomb, build, DIY, grenade, hack, mod, MP3 player