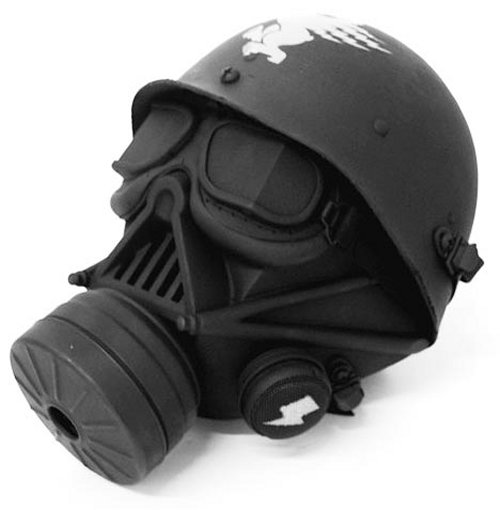 If Anakin Skywalker had lived during WWII, this is very probably what his helmet would have looked like. You can easily see a gas-masked Vader carrying out Hitler's orders. It was made for The Vader Project, which features custom Darth Vader helmets, by Tristan Eaton and AZK ONE. Behold the Darth Vader Gas Mask! You can almost hear the familiar breathing as he breaths in clean filtered air.
The Vader Project is curated by Dov Kelemer and Sarah Jo Marks of DKE Toys. Kelemer and Marks gathered up almost 100 underground and surrealist painters, artists , and designers to participate. Each artist was given a 1:1 scale authentic prop replica of the actual Darth Vader helmet used in the films. Each artist was free to paint, design, mash up, and customize the helmet.

Gas mask Vader may be even scarier then the original. They did a fantastic job on detail here.
darth vader, Gas Mask, helmet, Star Wars, Tristan Eaton, Vader Project