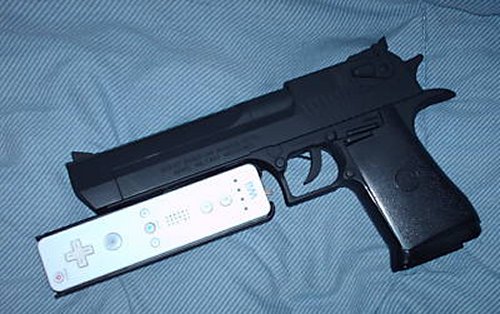 eBay seller fordelite_76 is just brimming with confidence that you will bid and bid high on this auction for a custom Wii gun they created. I can tell, because he uses a lot of asterisks and the word AWESOME sandwiched in between. That's confidence. And why not? "IT WORKS GREAT AND LOOKS BETTER THAN ANY OTHER WII GUN OUT THERE ..I HAVENT SEEN …"
Who could argue with that? It looks so realistic with the large white Wiimote attached bayonet style. I bet the thinking was that if you can't frag your enemy from a distance, just approach and stab your TV Civil War style. Another strange thing is that in the pics the gun appears to be hardwired to the Wimote's B button via a bent hanger wire that pulls the trigger. Now that's craftsmanship.

This beauty will only cost you an opening bid of $20. Which hasn't happened yet.
[ebay] VIA [GoNintendo]
custom, Desert Eagle, DIY, eBay, gun, hack, mod, Nintendo, pistol, strange, Wii