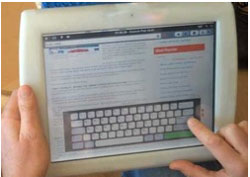 Those of us who work in the technology industry are used to writing stories about new products, testing new products and seeing early prototypes of gadgets before they debut. What isn't common is for these prototype products to actually come from the same publications that write about them.
Michael Arrington from TechCrunch has been hard at work trying to bring a device called the CrunchPad to market. The CrunchPad is a tablet computer that runs on a Via Nano netbook CPU and has 1GB of RAM.
The touchscreen is a 12-inch unit with a resolution of 1024 x 768 and storage for applications and data is to a 4GB flash drive. The device isn't quite as sexy as the group hoped it seems and they say the production version will be smaller and better looking. Arrington hopes to bring the CrunchPad to market at $200.
CrunchTablet, Tablet PC, TechCrunch