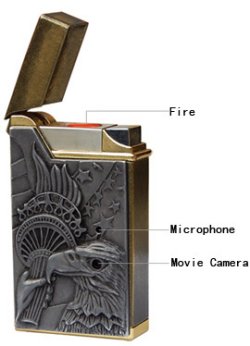 Check out this ultra patriotic lighter. If you need to display your love of country every time you light up, this is the lighter for you. The bonus is that it is also a spy camera. Ajoka's cigarette lighter video camera records 640 x 480 QVGA in AVI format at 30 frames per second and supports microSD up to 8GB.
If American Dad was real and not a cartoon, this is what Stan would be carrying around. It features a lithium ion battery for 6 hours of filming and can be charged via USB. And yes, it works as a lighter. If you know a ton of spys, you can order these wholesale for $150 each.

Of course now that everyone has seen it, it's hardly a spy camera, now is it?
camera, cigarette, lighter, spy, Stealth