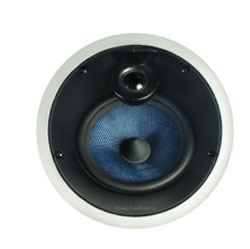 When it comes to adding a home theater in your living room there can be several problems. The first of which is wires running around your room. You can get around some of this with wireless rear speakers, but that still leaves the second problem; namely, the unattractive design of many speakers themselves.
The choice for those who don't want wires and don't want to see the speakers are in-ceiling or in-wall units. Bowers & Wilkins has announced a new high-end set of in-ceiling home theater speakers. The speakers are called the CCM816 and will retail for $600 each when available in February.
For the money, you get a 6.5-inch driver made from blue colored Kevlar and a 1-inch tube loaded aluminum tweeter. The drivers are angled at 28-degrees to allow the speakers to sit flush with the ceiling, yet still project sound towards the sweet spot for listening.
Bowers & Wilkins, Home Theater, Speakers