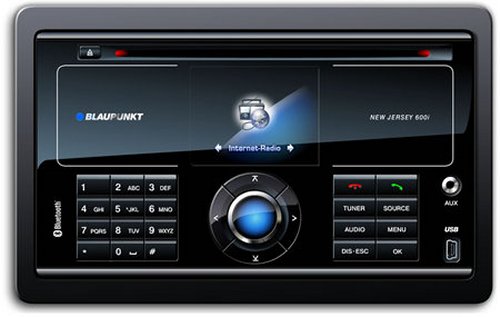 This year's CES will see Blaupunkt and miRoamer put Internet radio into car dashboards for the first time. According to miRoamer founder and CEO George Parthimos, "miRoamer's development with Blaupunkt is the first seamless Internet radio solution. With the simple push of a button, users can access AM/FM stations or Internet radio's thousands of music, entertainment, news and talk stations from around the world, all from the same car stereo."
The first model will connect to a 3G/HSDPA/HSPA device via Bluetooth for Internet connectivity. When connecting to the Internet from an external device (Like an iPhone), the customer's existing service provider is the default network. They have various models in the pipeline which may have their own internal modem.

The prototypes are the New Jersey 600i and the Hamburg 600i. Both will provide access to tens of thousands of miRoamer stations when connected to a smartphone on an unlimited data plan. The stereos will also offer phone, address book and navigation via Bluetooth. One of the options available is to post your playlist files on the Internet, on a free blog site. They don't occupy much disk space and since they just link to remote files you could bookmark those playlists on the Blaupunkt radio to access anything you want from the road. You can customize favorites, search options and more using your computer at miRoamer.com and access them later through the radio.
Blaupunk, car, CES 2009, internet, miRoamer, Radio