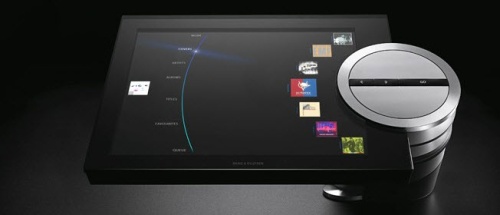 Bang & Olufsen introduced today in North American its premium BeoSound 5 digital audio system. This little number, when available in February, will run you around $5,900 for the base unit, plus various other costs for accessories.
The BeoSound 5, said its maker, combines physical elements (such as an aluminum wheel and tactile buttons) with virtual ones (a laser pointer and a specially-developed graphical user interface) on a 10.4″ LCD display. It offers up a unique intelligent playlist technology scans one's music library and finds similar tracks based on parameters such as sound, dynamics and rhythmic aspects.
Features of the BeoSound 5 include a 500GB hard drive for storage of digital music files, Internet radio streaming, lossless WMA support and one hand operation. It will be available only through North American Bang & Olufsen showrooms.
Bang & Olufsen