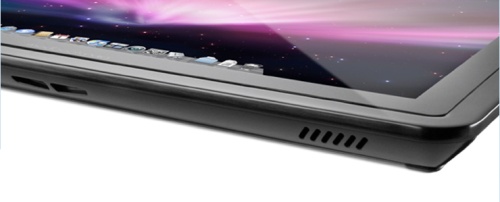 Axiotron is back at it again with doing after-market modifications to Apple laptops. Its latest product, the new Modbook Pro, is currently being showcased at MacWorld and prices around $5,000 starting if modifying one of their in-house MacBook Pros.
The Modbook Pro is designed to be a a 15.4-inch pen-enabled display with a pixel resolution of 1440 x 900 WXGA which runs the Mac OS. It also incorporates a technology which uses touch functionality primarily in support of the pen input. Axiotron ends up replacing the original Apple MacBook Pro's enclosure to accomplish this, voiding the current Apple warranty and replacing it with one of its own.
Those desiring to torture themselves can order, as an option, a partitioned drive pre-installed with Windows Vista Business Edition. The Modbook Pro is currently scheduled to begin being available in the May/June timeframe.
Apple, axiotron, laptops, macbooks, ModBook, notebook computers, tablet computers