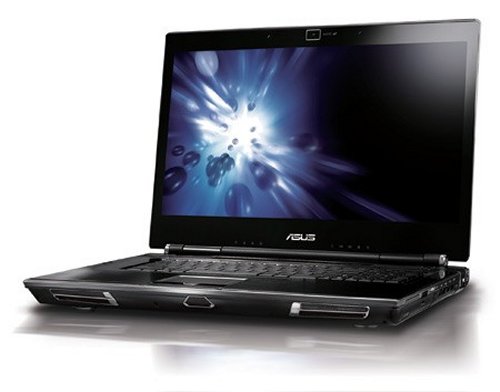 Asus has introduced their latest high-end gaming notebook at CES. Known as the ASUS W90, the laptop provides a 18.4- or 17-inch display, depending on model with the ATI Mobility Radeon HD 4870 X2 or HD 3850 X2 dual graphics, or a single NVIDIA GeForce 9800 GS GPU, and the Intel Core 2 Duo processor.
The W90 uses the Intel X38 chipset and has three SO-DIMM slots for up to 6GB of DDR2 memory. Some other neat features include up to 1 terabyte of hard drive storage space using two HDDs, DVD burner or Blu-ray optical drive, six built-in Altec Lansing surround sound speakers, optional TV tuner, AI Touch Media, a 2MP webcam, 802.11 Draft N wireless, Bluetooth, Gigabit Ethernet LAN, and a 56k modem just for good measure.

The rig even sports a Turbo Gear function that lets users overclock the machine by "up to 25%". You'll also get HDMI and VGA outputs, four USBs, an ExpressCard slot, Firewire, and an 8-in-1 media card reader.