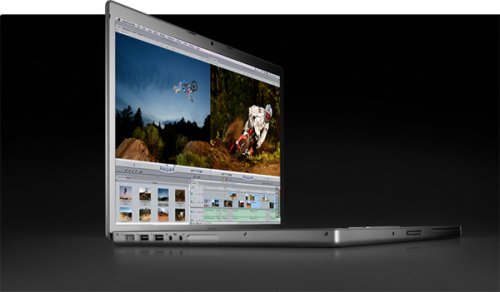 As expected, Apple has announced its 17″ MacBook Pro that has had the intertubez all abuzz prior to Macworld. It is 0.98″ thin and tips the scales at just 6.6 pounds. Now that's not the lightest ever, but it is a 17-inch laptop. But it is the lightest and thinnest 17″ notebook in the world though.
Some features include: 17″ LED backlit display 1,920 × 1,200 resolution 700:1 contrast ratio 60% greater color gamut compared to its predecessor, Intel Core 2 Duo 2.93 GHz Dual Core processor, 8GB 1066MHz DDR3 RAM and a 320GB hard drive. You also have the choice of a $50 anti-glare option if you want. There's a trio of USB 2.0 ports on the left, a Mini DisplayPort, FireWire 800, digital audio in/out and an ExpressCard slot and all the other features you love.

Apple is claiming an eight hour battery life on a single charge, and the battery can last for up to 5 years before requiring a replacement. The idea is that by then you'll change your MacBook Pro to a newer model. Ships in late January.
17 inch, 8hrs, Apple, battery, CES 2009, MacBook, thinner